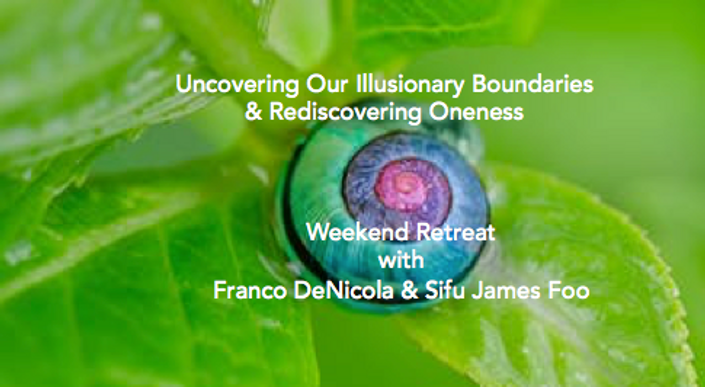 Uncovering Our Illusionary Boundaries & Rediscovering Oneness
Weekend retreat recording with Franco DeNicola And Sifu James Foo
Enroll in Course
Uncovering Our Illusionary Boundaries & Rediscovering Oneness
Cambridge Dictionary meaning of Oneness: A state of being joined as one thing and no longer separate.
Recent research indicates decrease activities in a portion of the parietal lobe and increase in activities in the prefrontal lobe causes the perceived dissolution of physical boundaries and increases the feeling and experience of being One with the Universe. Operating in Oneness does open us to amazing capabilities and alignments.
Have you had your share of playing within the illusion of separation? Are you now ready to experience the true essence of Oneness? The more we release programs that have been adopted and supported amongst one another, the more we will realize our true essence of Oneness!
Oneness is a term that is thrown around more and more, but do we truly understand what Oneness is?
At this retreat, Franco DeNicola and Sifu James Foo explored the concept of Oneness and Oneness Consciousness by sharing their own insights and experiences.
Sifu James Foo introduced exercises and some brain frequencies so to experience Oneness, while both he and Franco addressed some of the questions and limitations we may have when it comes to experiencing Oneness on a personal level.
Some of the topics covered were:
- What is Oneness and Oneness Consciousness
- How do we function in Oneness
- How do we release self-imposed boundaries
- How the collective consciousness influences our perception
- How our roles are interconnected with the people we interact with
- Dissolving victim/victimizer roles
- Experiencing Oneness on a personal level
- Interacting with others through Oneness consciousness
- How do we shape our reality in the field of Oneness
- Seeing through the illusion of our self-imposed physical boundaries
- Exercise - Experiencing Oneness
- How our collective reality will shift in Oneness
- Exercise – tapping into Source Consciousness
Several processes were utilized with takeaways to establish and maintain a new state of oneness.
Experience the profoundness of what these recordings can provide!
Your Instructor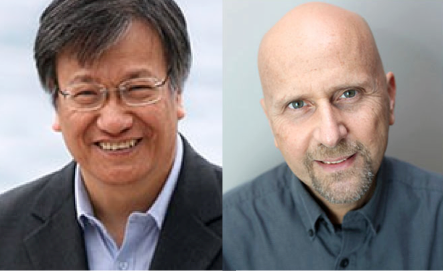 Franco DeNicola is a spiritual guide dedicated to assisting humanity in these times of great individual and collective changes. From an early age, Franco's access to higher dimensions of consciousness allowed him to recognize our true spiritual nature and understand our greater purpose for being on earth – which is to experience, play and evolve as souls on a physical journey.
Because humanity is transitioning from an ego-driven and fear-based world to one that is aligned with our true nature of peace, oneness, compassion and cooperation; it is with a great love that Franco dedicates himself to sharing his insights with others to facilitate this evolutionary leap forward.
Franco's work is aimed at assisting individuals in creating beneficial consciousness shifts and realignments within their personal lives, so that they may not only lead more fulfilling lives, but become the agents of change our world needs.
Sifu James Foo has been involved in energy work and alternative healing for over 20 years. He is a highly sought-after Qi Gong, and Feng Shui Master who conducts Feng Shui audits for businesses and individuals in Canada, London, UK and occasionally in Hong Kong and Shanghai, China. James has also assisted many clients to heal their bodies with his Chi-Matic Healing Modality.
James was born with the capacity to see energies and how it moves. He was trained by Allen Wright, a psychic on the art of communication with the spirit world. As a result of this sensitivity, he developed an understanding of how to re-balance the chi in our organs to recover from sickness and improve our health. He also teaches people to see auras and do remote healing and devotes much of his time developing the Chi-Matic Healing Modality. In these classes, he teaches about energy (called Chi), how to feel it and what to do with it. He continues to explore and expand the boundaries of this research.
James Foo's Feng Shui teacher was Master Francis Yip of Toronto. He now combines his gift of seeing, feeling and tasting of chi with the Art of Feng Shui and he also utilizes the Four Pillars of Destiny Method.
He holds a degree in Science from Sussex University, England and a Computer Science degree from Imperial College.

Course Curriculum
Uncovering Our Illusionary Boundaries & Rediscovering Oneness
Available in days
days after you enroll
Frequently Asked Questions
How long do I have access to the recordings?
How does lifetime access sound? After enrolling, you have unlimited access to these recordings for as long as you like - across any and all devices you own.
Can I download the recordings?
Yes! You can download all the audio recordings, however the video recordings are not downloadable.
Gain a new understanding of Oneness and Oneness consciousness!